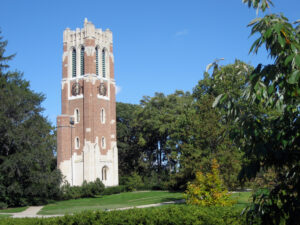 Located in East Lansing, our firm consists of attorneys dedicated to serving a wide range of clients' needs. Our clients include cities, townships, insurance companies, national and state associations, and large corporations, as well as small businesses, families and individuals. Because of our wide ranging experience, our attorneys are often seen appearing at board meetings, courtrooms, administrative tribunals, and legislative strategy sessions.
Our firm is currently composed of four attorneys. Despite our small size, we have received the highest rating given by Martindale-Hubbell, the nation's most authoritative source on legal qualifications. This rating reflects our attorneys' reputation for demonstrating preeminent legal ability while maintaining the highest ethical standards.
We have established a reputation in the legal community as leading experts in the areas of municipal law and workers' compensation law. Our municipal and workers' compensation departments continue to achieve great success on behalf of our clients while establishing new precedents in Michigan law.
In addition to handling larger complex cases for corporate clients, many of our attorneys represent private individuals with equally challenging problems. We emphasize careful personal attention to the individual concerns of our clients whether large or small. We regularly assist clients in estate planning, probate matters, real estate agreements, business contracts, divorces, custody matters, adoptions, debt collection, personal injury, and general litigation.
In August of 2006, our law firm took over the immigration practice of Daniel C. Learned, P.C. Our law firm now offers assistance in all employment and family based immigration matters, including adjustment of status or visa processing, and ultimately naturalization as a U.S. citizen.
At McGinty, Hitch, Person & Anderson P.C., we pride ourselves on keeping our clients' best interests at the forefront of every decision.